"meow-cenary" Viking kitties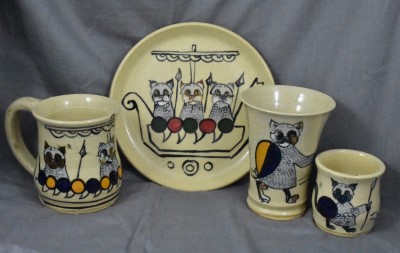 Viking Kitties, aka "meow-cenaries," these whimsical felines come in a variety of cat colors: marmalade tabby, gray, calico, black, gray, and many many more--both standing triumphant alone and a-raiding shipboard with their feline felon friends. Custom orders requesting colors based on your personal colors, cat, or cats are welcome. .
Want a feline cookie stamp? Go to the Cookie Stamp page.
PATTERN EXAMPLES



Viking Kitty Ship Mini Cup

Miniature Cup, 2-4oz $15


Single Viking Kitty Beaker Cup
Pictish Woad Cat S-side Cup
Viking Kitty Ship Goblet

Medium Cup, 10-14oz $31


Persian Purrsian 16oz Mug, 2 views
Viking Kitty Ship 24oz Mug

Mug, 2 Sizes


Viking Kitty Ship Bowl

Bowl, 5-6 inch $27


Single Viking Kitty Plate

Plate, 8-9 inch $35


Viking Kitty Ship Platter
Viking Kitty Ship Serving Bowl

Platter, 13-15 inch or Serving Bowl 7-8 inch


Viking Kitty Ship Teapot

Teapot $99


Viking Kitty Ship Set, Beaker
Pictish Woad Cat Set, Mug

1-person Setting

Don't forget to check out the Cat Cookie Stamps!
History & Documentation
These are Reannag Teine original designs. Though these patterns are not period, they do follow in the tradition of drolleries and the Bayeux Tapestry as see above. For more in the tradition of drolleries and the Bayeux Tapestry & this silly string of bad puns, we also have Viking Sheep and t

he Dogs of War

.

Also available are some of our cat patterns on Redwolf Brooches.

Unique & usable, safe for food and drink as well as the modern conveniences such as oven, dishwasher, and microwave. All the designs are drawn free-hand and hand-painted onto the hand-thrown pottery—no molds or stencils used—and our wares are designed sturdy, built to survive years of everyday use.



COMMON QUESTIONS:



Historic Replicas Gallery | Pottery Examples Gallery | Custom Order Examples